Hans was born in the Netherlands in 1929 and immigrated to Canada in 1955.   While he didn't begin his exploration of watercolour or pastels etc. until he became an octogenarian, once he got going, there was no stopping him!  His watercolour scenery paintings, pastel animal portraiture, graphite pencil, as well as pen and ink works have received *First* and *Judge's Choice* awards in various shows and many of his paintings are now hanging in homes and businesses – literally around the world.
As you scroll below and see some of Hans' artwork, please click "Older Entries" and "Newer Entries" prompts (at the end of the photos of his work – on the left /right side) so you can see all of his work that's been posted.
Over time, more of Hans' artwork will be posted and the poorly photographed (some photos were taken after the artwork was framed behind glass) will be replaced.   Sadly, Hans died on June 26, 2016.  A copy of his Remembrance (Obituary), pamphlet for his "Celebration of Life" and an audio version of that Service are below.
Thank you for your interest in Hans' work and while you're on the Soulistry site, feel free to look around at the other pages.
June Maffin (Hans' wife)
Click to read "Eulogy of Love"
Through a cloud of sadness,
love shines.
Long before I knew him, our paths began to intersect.
Some call it "fate"; some call it "co-incidence."
We called it "Divine Love."
In Montreal, he and his family lived
about three blocks away from my family.
In North Vancouver, he lived a few miles away from me.
On the Sunshine Coast, his family had a summer cottage
in the community I worked.
We never met in any of those places.
And when we met, by happenstance at a Christmas Fair,
it wasn't "love" or "sparks,"
it was simply a meeting of two people who shared common interests
and who began to grow in friendship.
And then 'love' entered the scene
… not between the two of us (just yet)
but through a rescue dog –
his little King Charles spaniel named Shandy.
As the years passed and the friendship he and I shared, grew.
'Love' entered the spaces
that had been empty for far-too-long.
He asked me to marry him.
But, I said "No, not yet."
Then he asked again
and again and again.
One day, he phoned and asked me to go
for an afternoon drive with him
… we often did that.
He came by with Shandy, picked me up and off we went.
And on a bench overlooking the ocean at Qualicum Beach, again, he asked me to marry him.
And this time, I knew that the obstacles we had talked about were nothing if we faced them together.
I realized that his love for me was so deep
as was mine for him
and that spending the rest of our lives together,
no matter how long, how short,
was part of "Divine Love."
Six weeks later
he had sold his house; I had sold my house;
a new home was purchased
and we were married, October 17, 2009.
It was a day marked by 'clouds,'
But we knew that we would face any and all clouds together.
We were the love of each other's lives.
Laughter filled our home; deep conversations filled our home.
Joy and peace and hope filled our home.
Divine Love filled our home.
And this morning, my beloved took his leave of this Planet Earth
but never, never ever, takes his leave of my heart.
He joins others in that Great-Scriptorium-in-the-Sky,
and is singing in that lovely voice of his
while calligraphically-rendering the six words of his reality:
"It is well with my soul."
Through a cloud of sadness,
love shines.
Rest in peace my beloved, Hans.
Rest in peace.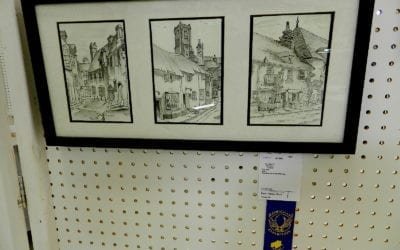 It's often been said that "An artist continues to live on after death in their art." My dear husband, artist Hans van der Werff, continues to live on in his art, as well as many other ways. Every winter, he and I would spend time in the Studio creating, playing and...
read more
As his wife, I'm claiming "bragging rights" today about Hans. When our local paper learned of his recent two-page feature article in the March edition of the national magazine "More Of Our Canada", they sent a delightful young man, Paul Brian to interview Hans.  While...
read more